Nantwich horse abattoir investigation after secret film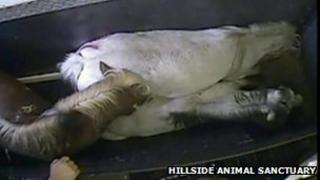 An investigation has been launched into an abattoir by the Food Standards Agency (FSA) after undercover filming allegedly showed horses being abused.
The Hillside Animal Sanctuary, which took the footage, said it was taken at High Peak Meat Exports abattoir near Nantwich in Cheshire.
The FSA said two slaughtermen had had their licences withdrawn, and it was looking at the footage in more detail.
High Peak Meat Exports has been unavailable for comment.
The FSA said it was reviewing the footage, along with the RSPCA, with a view to a potential prosecution.
The footage allegedly shows horses being beaten with sticks, a rope and iron rods to move them into metal pens.
Hillside Animal Sanctuary said the pictures also showed that some were put into the slaughter pens in pairs or threes, and then stunned together.
Craig Kirby, of the FSA, said he was "deeply shocked" after seeing the pictures.
'Shocking and horrific'
"The thing that was most distressing involved the handling of the horses before they were slaughtered," he said.
"There's certainly excessive use of a bar to hit one of the horses, and there's also some concern about more than one horse being killed at the same time, which is certainly unacceptable and against the law."
Staff from the Hillside Animal Sanctuary, based in Norwich, carried out its undercover investigation over an eight-week period.
Founder Wendy Valentine said it had recorded more than 80 hours of footage.
She said: "It's just horrific. I mean, the whole process of horses being slaughtered is depressing, but to then see abuse and blatant flaunting of regulations makes it even more shocking."
The RSPCA said it had concerns that horses were in the stunning pens at the same time, rather than individually as the law requires.
A spokesman for the agency said: "We also have worries about some of the animals that appear to be injured, so we have requested a copy of the unedited footage with a view to investigating."