Stoke gritting operation criticised by drivers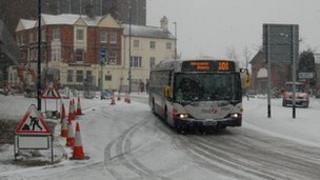 Motorists have criticised Stoke-on-Trent City Council for "appalling" gritting operations in parts of the city.
Taxi driver Malcolm Sullivan said he had been working since 01:00 GMT and conditions had been "horrendous."
He said: "I just don't think the main routes have been gritted, cars are skidding all over the place."
Pete Price from the council said teams had been "working 24/7 over the weekend" to keep the roads clear.
He said: "We've got gritting wagons but not a magic wand.
"We're doing everything we can, we've got a special 4x4 and teams hand gritting where there are steep slopes and pedestrian areas."
Mr Price also urged residents to make use of the 400 "self help" salt bins located around the city to make areas safer.
'Treacherous and slushy'
Tim Whitehurst from Eaton Park said it had taken him an hour to travel 3 miles (5km).
He said: "You can tell when a road's been gritted because it might be a bit treacherous and slushy, but these roads are still covered in snow and ice."
"I know the council has got a a tough job and I don't know if this bad weather was predicted but it's clear they weren't ready for it.
"I was more than an hour late for work - luckily, my boss is quite understanding."
The Met Office has issued a yellow warning of snow and ice for the West Midlands, advising traffic conditions may be difficult and dangerous.
In the Staffordshire Moorlands, there were reports of drivers getting trapped in snow drifts of up to 4ft (1m) and snow affecting traffic in Leek.
Paul Johnson said he had seen two cars get stuck on Kidsgrove bank and said road conditions around Stoke-on-Trent were "appalling."
"I live in Cheshire and it's noticeable when you come over the border, roads by my house have been gritted fine but they're terrible here."
Bus service disruption
Staffordshire County Council said its gritters had been out overnight and through the morning treating roads across the area.
Mr Turner said: "We're sending teams round hand gritting on locations the gritters can't get to because they can't actually get everywhere.
"There are some places that are physically impossible to get to.
"When you start off, because there's been very little traffic on the roads overnight, they are white over but when the traffic starts they do start to blacken up."
Adey Culpin from First Bus said some of its services had been cancelled or disrupted.
"There's a lot of roads that are tricky or impassable this morning and there are major problems getting access to the side roads and estates."
Bakers Buses said many of its services were "behind schedule" and Arriva said it was running a revised service in Staffordshire.
More than 200 schools were closed in Stoke-on-Trent and Staffordshire.
Stoke-on-Trent City Council said it had cancelled bin collections across the city due to the severe weather.
It said 17,000 homes would now have their rubbish collected on Friday and Saturday, with a further 6,000 having their bins emptied next Monday.
Residents would be able to put out up to two additional bags of waste on revised collection days, the authority said.