Leek supermarket opens after road layout concern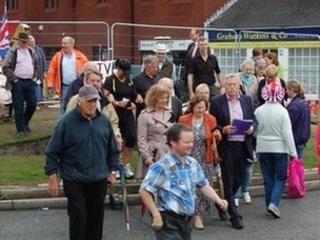 A Staffordshire supermarket, which caused concern among a number of residents because of the new road layout it required, has opened.
Leek roundabout was demolished in June as part of a £5m road plan campaigners regarded as unsafe.
Protesters had camped out on the roundabout in a bid to delay its removal but left after the county council was awarded a possession order.
A spokesman for Sainsbury's said the store had opened on schedule.
Nick Alston, from the supermarket, said the company had invested in excess of £40m and hoped those who had protested about the roundabout would not boycott the business.
River widened
Mr Alston said: "We've put a lot of investment into Leek and hopefully if you come to the store you'll see that investment and regeneration.
"Through the spring and the summer you'll really get to see how well we've improved the area because it was a pretty run down industrial site and we've done a lot of work with the landscaping and widening of the river.
"There's been a lot of work to improve and widen the River Churnet and improve the flood capacity to deal with flash flooding and I think that's a big improvement for the area.
"We feel that the investment warranted the store and are encouraging the people of Leek to stay in Leek, shop in Leek, be employed in Leek and we see that as a good thing."
John Fisher, a Liberal Democrat councillor at Staffordshire Moorlands district council, said he hoped it was not bad news for retailers in the town centre.
He said: "On balance I think it is [good] but I do hope people will continue to buy fresh products from our markets and support our local shops.
"I'm confident that Sainsbury's and our independent shops can coexist and that local people will use both.
"I'm on the planning committee and I did vote against this but I recognised there were lots of pluses to it as well as negatives."