Mid-Staffordshire NHS Foundation Trust at risk of insolvency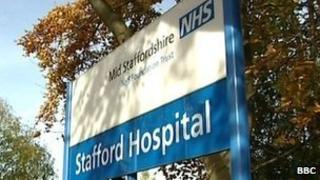 A hospital trust needs to save £53m over the next five years to stave off insolvency, a health watchdog says.
The report by Monitor said that without continuing financial support the Mid-Staffordshire NHS Foundation Trust would not be able to pay its debts.
It said experts were examining whether services should be moved to other hospitals or health providers.
The Department of Health gave the trust which runs Stafford and Cannock hospitals, more than £20m last year.
The report said the trust was also struggling to provide high-quality clinical services.
Prof Hugo Mascie-Taylor, from Monitor, said: "If the Department of Health removed its financial subsidy it is clear that clinical services would suffer."
'No financial plan'
Monitor said that for the trust to break even it needed to save £53m over the next five years - about 7% of its yearly budget - and also get a £73m subsidy from the government.
It said without that amount the trust would be unable to pay its debts and would be "deemed insolvent".
Once it had received the report from the panel about the future of services it would decide what action to take and whether to put the trust into special administration, the watchdog said.
Lyn Hill-Tout, chief executive at Mid-Staffordshire NHS Foundation Trust, said she accepted that it was "not clinically or financially sustainable".
She said: "Despite all the efforts not only of the trust but of the local health service, we do not have a plan which brings us to financial break even by 2015.
"This is because medicine has and will continue to become more specialised and smaller hospitals cannot attract or resource the specialist teams and infrastructure required to maintain such services.
"One solution is to network, which is to share services with larger, specialist hospitals, something Mid Staffs has already begun to do successfully."
Provide specialist services
A 2009 Healthcare Commission report revealed a higher than expected number of deaths at Stafford Hospital.
A report into the findings of a public inquiry into the failings at the hospital is expected to be published over the next few weeks.
Julie Bailey, founder of Cure the NHS - a campaign group looking at the Mid Staffordshire NHS Trust - believes it "could be a real opportunity" if a specialist service were to be placed at Stafford in partnership with another hospital.
She said: "We're hoping that another hospital will be able to take it over and provide the community with the services that it needs."
Stafford's Conservative MP Jeremy Lefroy, said a distinction needed to be drawn between the trust and the actual hospitals, and that changes needed to be made.
Mr Lefroy said: "Monitor, and we as a country, have to get a district general hospital like Stafford right in order to ensure that the model of being able to provide acute services, particularly for elderly people with complex illnesses, locally, can be sustained."
Cannock Chase Conservative MP Aidan Burley unveiled plans for Cannock Hospital to be taken over and run by the community in December.
He said the Monitor report made it clear that "there was no future for the Mid Staffs Foundation Trust in its current form."
"The report states that the issue for Cannock is insufficient demand but local people are waiting longer than average for operations and theatres are lying empty."
"The trust has to come clean about their real plans for the future of Cannock Hospital."