Road humps at Blurton fatal crash spot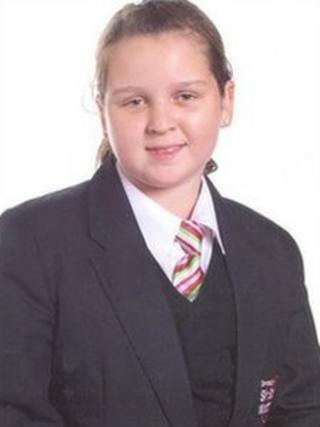 Campaigners have cautiously welcomed a decision to install road humps outside a Staffordshire school where a 12-year-old girl was killed.
Courtney Holdcroft was hit by a bus outside the Ormiston Sir Stanley Matthews Academy school in June 2011.
Stoke-on-Trent City Council plans to spend £35,000 building road humps along Beaconsfield Drive in Blurton.
Campaigner Roy Naylor said road humps were "better than nothing" but not the action they had hoped for.
Courtney, of Larch Grove, Blurton, was crossing from the school side of the road when she was run over by a bus was travelling down Beaconsfield Drive on the other side of the road. She was taken to hospital but died shortly afterwards.
Petition for crossing
Courtney's mother, Lindsay Roger-Coates, had said she wanted the bus routes to be changed so buses could not go up and down the road.
In September 2011, a petition with about 1,000 signatures calling for a patrol crossing was handed into the council.
Mr Naylor said: "I'm pleased something's being done although it's perhaps not the best solution, there are already humps on that road.
"But it's better to have something than nothing."
Work on the road humps is due to begin on 28 January and last two weeks, the council said.
Councillor Ruth Rosenau said: "We have listened to the concerns of residents and will be introducing a package of safety measures in a bid to encourage motorists to put a brake on their speed."