Building work begins at Redhill business park in Staffordshire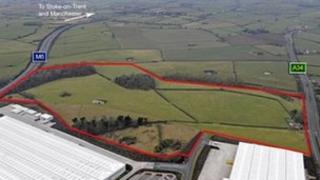 Building work has started on a £10.7m business park in Staffordshire, which the county council said could create up to 2,500 skilled jobs.
The park, which will target research and technology firms, will be built at Redhill, off the A34 in Stafford.
The county council, which is funding the project, said lane closures on the A34 would be in place until February.
The authority was criticised by councillors last month for exceeding its original project budget of £8.5m.
Liberal Democrat borough councillor Barry Stamp said the county council "should have done its homework" before having to approve an extra £2.2m for the park.
Mike Maryon from the council said: "This is one of the most significant business and regeneration projects for Staffordshire.
"This will have great long-term benefits for the area but there will be some disruption in the coming weeks.
"We would ask people to bear with us while this work on the road is carried out."