Rebuilding trust at Stafford Hospital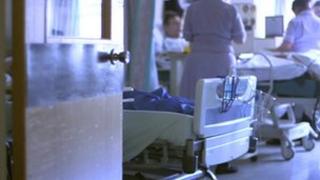 For the last four years Stafford Hospital's name has been the most tarnished of any hospital in an NHS facing troubled times.
The report following a public inquiry led by Robert Francis QC is unlikely to change that impression after its damning findings.
In the longer term, however, some experts believe the Francis report could prove a watershed moment in Stafford's rehabilitation - assuming it can survive tremendous financial pressures.
"Part of the problem is that they have faced an onslaught of negative stories and have struggled to rebuild their image," marketing expert and head of Staffordshire University Business School Paul Williams said.
Despite being under the media microscope for the last four years, the hospital has also had time - and money - to correct the problems on its wards that first brought it to the public's attention.
"The thing to remember is that if they've improved things clinically the negative stories should slow down after this report. Time is a healer," Mr Williams said.
"After the Deep Water Horizon oil spill BP became synonymous with everything dangerous about oil exploration.
"They might have handled it better at the outset, but long-term it doesn't seem to have had a major effect on its reputation globally."
If the local community was to regain its faith in Stafford, it was important the hospital trust was open and transparent about everything happening inside its wards - good and bad, he said.
"More than anything, though, they need to shout about all the good things they are doing. If they can do that, they can rebuild trust."
'Terrible care'
Chief executive of the Mid Staffordshire NHS Foundation Trust Lynn Hill-Tout said it had worked hard since 2008 to drive up standards and improve relations.
"The terrible care received between 2005 and 2009 is not representative of the care patients now receive in our hospital," she said.
Ms Hill-Tout admitted, however, that the hospital's reputation had affected staff morale and relations with the local community.
Appointing staff has proved difficult, with overnight closures at its accident and emergency unit partly caused by a lack of doctors and nurses in key areas.
An over-reliance on expensive locum and agency staff, caused by recruitment problems, has also increased costs.
But while few doubt its poor reputation, there is plenty of debate over whether the hospital deserves it as things stand in 2013.
For campaigners such as Julie Bailey, who set up the Cure The NHS group after the death of her mother at Stafford, the hospital still has a long way to go.
"There is still no trust at all from the local community in Stafford Hospital," she said.
Ms Bailey said she continued to hear disturbing stories about care at the hospital.
She added much of the evidence she heard during the Francis inquiry had revealed a "shocking" side to the NHS as a whole.
Negative stories have continued to flow, including recently a dummy taped to a baby's face.
But figures obtained through BBC Freedom of Information requests suggest the number of serious incidents at Stafford has fallen and in the last year is in line with other trusts in the region.
'On the up'
According to latest figures from the Dr Foster independent research group, Stafford Hospital is also now one of the best performers in the West Midlands, in terms of its mortality rates.
Cheryl Porter, part of the Support Stafford Hospital campaign group, said belief in the hospital was "on the up", due to its recent performance and an openness by the new board.
Improvements in clinical care over the last three years were also recognised by Calum Paton, professor of health policy at Keele University, who appeared before the inquiry as an expert witness.
A former chairman of University Hospital North Staffordshire, he believed Stafford's reputation could be rescued in the long term, but that much would also depend on its balance sheet.
Finance watchdog Monitor has warned the trust is close to becoming insolvent.
The hospital is in danger of being handed over to another trust, but according to Professor Paton, even this would not necessarily solve its problems.
More worryingly, perhaps, Stafford Hospital's money problems and ongoing battle to cut costs safely are far from unique within the NHS.