Pinetrees cattery owner 'overwhelmed' by support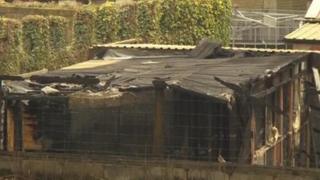 The owner of a cattery where 20 cats died in a blaze says she has been "overwhelmed" by the amount of support she has had since the fire.
Only two cats survived the fire at Pinetrees Cattery in Huntington, Staffordshire, on 4 January.
Its owner Lynn Durnall lost three cats herself and her fourth is still receiving treatment at a vet's surgery.
She said she was considering whether to rebuild the cattery, but said many customers had asked her to.
She said within a week of the fire she had received more than 70 cards and extra calls and visits from people offering help and support.
Mrs Durnall, who has been running the cattery for nearly 13 years, said: "Initially, I felt like crawling under a stone and never coming out.
"But everyone's been so nice and they want me to carry on. I've been absolutely overwhelmed with the support."
Accidental cause
She said even a customer who had lost three of her pets in the fire had asked her to consider rebuilding the cattery.
One of the cats which survived the fire has since left the care of vets.
Mrs Durnall's 10-month-old cat Ollie is still receiving treatment.
Fire investigators said the fire was accidental. Mrs Durnall said the exact cause was still being established.
At its height, 30 firefighters were called to help deal with the blaze, which took them several hours to control.
It was initially believed some cats may have fled into nearby woods, but later emerged that was not case.