Tamworth barn 'well alight' with 100 tonnes of hay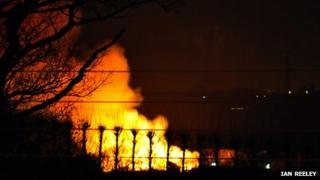 Fire crews have been dealing with a large barn fire in Staffordshire.
The county's fire and rescue service said the blaze broke out on Bangley Lane, Greater Bangley in Tamworth.
A spokesperson said the service received the calls at 17:06 GMT and a barn containing 100 tonnes of hay was "well alight".
Six fire engines were on the scene. The service tweeted the fire was causing traffic problems in the area and advised drivers to take care.