Staffordshire Hoard inquest rules most new items treasure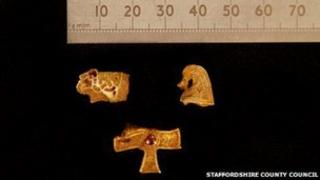 Nearly all the pieces of Anglo-Saxon gold found in the same field as the Staffordshire Hoard have been declared treasure at an inquest in Stafford.
The verdict was 81 of the 91 objects were treasure, as they were more than 300 years old with a precious metal content of above 10%.
The items were found after the field in Hammerwich was ploughed in November.
Experts from the Treasure Valuation Committee will now value the latest finds of gold and silver fragments.
It will then be up to Staffordshire County Council and neighbouring authorities to raise the money to buy the items.
If the money is raised, the pieces are likely to end up in museums with the original Staffordshire Hoard, which was found in a field near Lichfield in 2009 by metal detectorist Terry Herbert.
Part of hoard
Mr Herbert and Hammerwich landowner and farmer Fred Johnson will divide any proceeds from the sale of the new find in the same way they did with the original hoard, which was valued at £3.3m.
The second haul was discovered by a team from Archaeology Warwickshire, but Mr Herbert and Mr Johnson will benefit because they were were behind the original discovery, the coroner said.
South Staffordshire coroner Andrew Haigh said: "The original Staffordshire Hoard was a magnificent find and I hope these further 81 items can be added to the current collection and saved for the nation."
He added 10 of the items were rejected on the grounds they were "wastage" but he said they may still be of interest.
Some of the pieces are fragments that fit with parts of the original hoard of Anglo-Saxon gold and silver, archaeologists said.
Those artefacts have been dated to the 7th and 8th centuries and are currently on display in Stoke-on-Trent and Birmingham.
Archaeologist Stephen Dean said there were two theories to explain why the latest finds were not discovered sooner.
He said: "They could have been buried deeper so couldn't be detected with the original Hoard items or the geology of the area might not be conducive to metal detecting.
"That might sound odd, but in 2009 [when the Hoard was found] the work was carried out after ploughing and the latest work was carried out after ploughing so that is what's brought the items to the surface."
Stoke-on-Trent City Council and Birmingham Museum and Art Gallery jointly own the original hoard, which includes 3,900 artefacts.
They acquired the hoard after a 12-week fundraising campaign, in which £900,000 was raised through public donations, with funding from the National Heritage Memorial Fund and five local councils.