New Vic Theatre to lose Stoke-on-Trent city council funding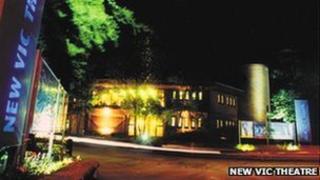 The New Vic theatre is to have a £70,000 grant cut by Stoke-on-Trent city council.
The money it gets from the council will be reduced by about £23,000 in each of the next three financial years as part of the authority's budget plans.
The council said it meant funding for the 597-seat venue in Hartshill would be scrapped altogether by 2016-17.
The theatre also receives financial support from two other local councils and the government-funded Arts Council.
Arts Council England, which does not fund any other theatre in the country, said it gives the New Vic about £900,000 a year because of the work it does with local schoolchildren and community groups.
The theatre said its Borderlines project works with about 10,000 young people "to tackle the problems of crime and anti-social behaviour."
'Difficult decisions'
In a report to the city council, the theatre said support from the authority was "vital in its ability to continue to attract funding from Arts Council England".
Fiona Wallace, New Vic Theatre Executive Director, said: "Like every local authority in the country, we know Stoke-on-Trent is having to make very difficult decisions."
"We will continue to work with the city to attract investment into North Staffordshire and to provide a world-class service for local people."
Newcastle Borough Council has given £97,620 to the theatre for this financial year but said it had not decided on the grant for next year.
Staffordshire County Council said it would spend £189,000 a year on the theatre until at least 2015.