Campaign to save Middleport vicarage backed by Heritage Lottery fund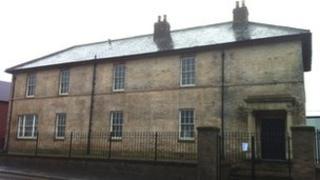 The Heritage Lottery fund has backed a campaign to save a 19th Century Stoke-on-Trent vicarage from demolition.
Ceramics firm Steelite International wants to knock down the building in Newcastle Street, Middleport, as part of a £12m expansion of its factory.
About 280 people have signed a petition to save it.
In 2002 the Heritage Lottery fund invested £300,000 to help refurbish the building. It said Stoke-on-Trent city council should reject the plans.
The vicarage, built in 1858, is also known as Heaths building and is owned by Steelite.
The company said that it wanted to demolish it along with seven terraced houses.
It said it hoped to create 230 jobs by building the new factory.
'Protect its heritage'
Reyahn King from the Heritage Lottery Fund has written a letter of objection to Stoke-on-Trent City Council, which has said it will make a decision on the plans "in the next few months."
Mr King said he would have "serious concerns about the authority's commitment to local history" if the council approved the plans.
He said: "We have invested over £8m in heritage led regeneration schemes in Burslem, including over £300,000 into the the Heaths building.
"Our investments have been based on assurances of the authority's commitment to protect its heritage assets and use them for regeneration."
"It would appear that demolition would be contrary to the authority's policies," he added.
The council said the vicarage, which is currently empty, was not on the statutory list for listed buildings but had been "noted as a building of special interest."
The Victorian Society started a campaign to save the vicarage in November.
A petition organised by the Burslem History Club, against the demolition, has 283 signatures.