Weston flooding: Pumps used to clear flooded A51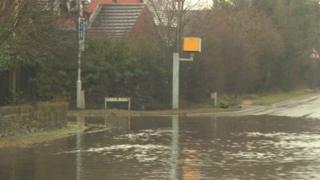 Tankers and pumps are being used to clear a busy Staffordshire road which has been shut for more than a week because of flooding.
The A51 at Weston, near Stafford, was closed on Christmas Eve when heavy rain caused a nearby brook to flood.
Mike Maryon, the Staffordshire County Council's cabinet member for highways, said it was not yet clear how long the pumping work would take.
Diversions have been put in place until the road can reopen.