Postal worker plan for National Memorial Arboretum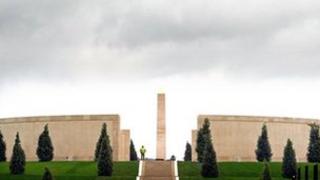 Postal workers killed while serving in the armed forces during World War I and II could be remembered at the National Memorial Arboretum.
The Post Office Fellowship of Remembrance hopes to store two books listing the names of the postal workers at the site in Alrewas, Staffordshire.
Simon Kelly, company secretary of the fellowship, said they had been produced by a postal worker in about 1950.
The WWI book lists 8,858 names and the WWII book lists 3,792.
Mr Kelly said the names were listed in alphabetical order under gold letters and gave the postal district in which the men and women worked as well as the regiment they served with.
The arboretum is home to many memorials, including the National Armed Forces Memorial, police, fire and ambulance service memorials as well as those of charities and organisations.