Hospital 'overwhelmed' by gifts to replace stolen toys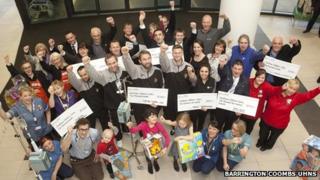 A hospital has received donations of £18,500 and 300 toys to replace Christmas gifts that were stolen from its children's ward.
Staff at the University Hospital of North Staffordshire said they were "overwhelmed" by people's generosity.
Clinical director Melissa Hubbard said: "It really has restored our faith in human nature."
Thieves stole computer games and toys and damaged furniture and Christmas decorations in a playroom on Sunday.
Ms Hubbard said: "On the day in question I was called up to the ward and it was a real sorry sight but to see it back together and this sea of toys is fantastic.
"We know the people in Stoke-on-Trent are very supportive of us and they've really stepped up to the mark when we needed them to."
Staffordshire Police said it was still investigating the theft.