Richard Deakin murder: Pair jailed over father's death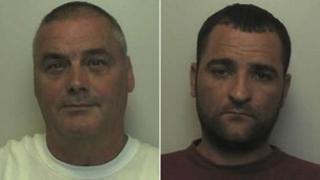 Two men have been jailed for life for the murder of a father-of-two from south Staffordshire.
Richard Deakin, 27, died when he was shot in bed in his Meadway Street home in Chasetown on 5 July 2010.
Gunman David Harrison, 63, and getaway car driver Darryl Dickens, 34, both from the Bilston area, were found guilty at Birmingham Crown Court.
Harrison was told he will serve a minimum of 37 years. Dickens is to serve a minimum of 30 years.
Staffordshire Police said CCTV footage showed Harrison, of Rainbow Street, and Dickens, of Powell Place, arrive at Mr Deakin's house at about 08:30 BST.
'Cold-blooded and calculated'
Neighbours raised the alarm and Mr Deakin, who died from a gunshot wound to the chest, was pronounced dead at the scene by paramedics.
Harrison and Dickens used a stolen black Vauxhall Corsa to flee the scene which was found abandoned in nearby Coppy Nook Lane, Burntwood.
Det Ch Insp Darren Harding, who led the force's investigation, said: "Richard's killers were cold-blooded and calculated.
"He was shot as he lay in bed, just moments after his two young daughters and partner said goodbye to him.
"Richard's family saw their lives change in a devastating instant, causing them an incalculable amount of pain.
"Working closely with colleagues at West Midlands Police, our detectives spent 18 months carefully piecing together evidence about the murder.
"This led us to David Harrison and Darryl Dickens who, it was shown at court, carried out the murder following weeks of planning.
"The strength of the evidence gathered against them led to their conviction and life imprisonment.
"These men deprived two girls of their father and left a massive hole in his family's lives."