Ginge the cat operated on by PDSA after eating tinsel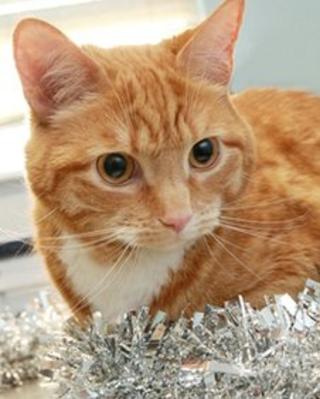 A "curious" cat is recovering after swallowing about a metre (3ft) of tinsel strands.
Ginge, who is two-and-a-half years old, ate the silver Christmas tree decoration, which stuck in his throat and intestines.
His owner, Joanne MacLeod of Brown Edge, Stoke-on-Trent, took him to the PDSA PetAid hospital after he vomited and became lethargic.
She said the cat was "still not 100%", but was a "lot better in himself".
Tinsel on tongue
Ms MacLeod said: "Ginge is a curious cat and likes shiny things. He had been chewing away at the silver thread on my scarf and also around the tinsel on the Christmas tree.
"He ate the strands of the tinsel and kept running away with them. When he started being sick and his personality changed, I knew something was wrong."
Ms MacLeod has now taken the tinsel off the tree and is keeping Ginge clear of the Christmas decorations.
PDSA Stoke-on-Trent's PetAid hospital senior veterinary surgeon Jenny Powell said: "Ginge had a bit of tinsel just visible at the base of his tongue, indicating that he might have swallowed some of it.
During the operation, surgeons found tinsel running from his tongue through to parts of his intestines.
Ms Powell said: "We managed to remove a third of the tinsel by operating on Ginge's intestines and the rest we delicately removed through his mouth. He recovered very well and is now back to his old self."