Redhill business park project needed 'proper budget'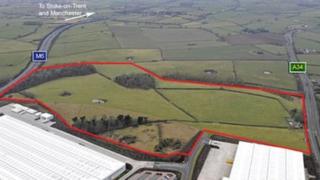 A Staffordshire councillor said "a proper budget" should have been worked out for a business park which is set to cost £2m more than expected.
County councillors have approved an extra £2.2m for the park at Redhill, off the A34 in Stafford.
Liberal Democrat borough councillor Barry Stamp said the county council "should have done its homework" before.
But the Tory-run county council said changes to the original £8.5m plans followed a "solid" redesign.
'Stick to budget'
The site's planning authority, Stafford Borough Council, which is also Conservative-run, approved the plans in October after twice deferring the decision to gather more information.
The county council is funding the project which it said could create 2,500 skilled jobs - more than originally estimated.
The park, expected to be completed next year, will target businesses in the research and technology sector.
But Mr Stamp said it should have been properly costed earlier.
"This request for extra money has suddenly sort of come out of the blue and what what worries me more than anything is that an organisation the size of the county council haven't worked out a proper budget for this park right from the very beginning," he said.
"Building projects can go over budget but £2.2m is lot to go over budget by.
"An organisation like the county council should have done its homework properly. It should know the budget that it's working to and it should be sticking to that budget."
'Rolls-Royce' design
Mark Winnington, the county's cabinet member for environment and assets, said the project had been costed properly but they were aiming for a "Rolls-Royce job that's going to stand the test of time".
The rise in costs followed discussions with the Environment Agency and other groups looking at areas such as drainage and protecting nature, he said.
"We have changed the design. We have now got a solid design that we are happy with which will be there for the next 50 years," he said.
Mr Winnington said the creation of skilled jobs in Stafford was very important, particularly as the town's jobless total had increased in the last quarter.
"We are being transparent about it and saying it's going to cost a bit more but it's 2,500 jobs," he added.