Staffordshire PCC ends officer recruitment freeze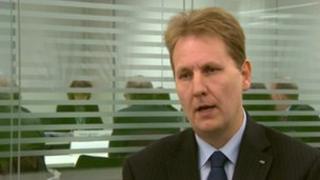 About 30 new officers are to be recruited to Staffordshire Police ending a two-year freeze.
The force's new Conservative police and crime commissioner, Matthew Ellis, made the announcements at a meeting with the county's police and crime panel.
Two hundred special constables will also be hired in unpaid roles for the force which needs to save £38.7m.
PC Andy Adams from Staffordshire Police Federation welcomed the end of the recruitment freeze.
Mr Adams said: "It won't be a significant number but it's a start and it will make a difference to the communities."
Mr Ellis said the force would need to spend its money more wisely in order to make the savings over the next four years.
He said: "It will mean investing in technology and there are issues around property to consider, there are large estates that should have been sold off.
"But I'm confident we can meet our obligations and get more police visibility."
Mr Ellis won the poll last month ahead of Labour's Joy Garner in a turnout of 11.6% - the lowest in the country.