Hanley shops demolished on new council office site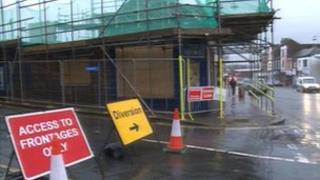 Demolition work has begun to remove over a dozen shops in Stoke-on-Trent on the site where new council offices are to be built.
About 2,000 council staff are set to leave the existing civic centre and move to a new £40m central business district (CBD) in Hanley in 2015.
The city council also wants to move the central library and archives into the business district.
The demolition work is taking place on Broad Street in Hanley.
The council said the move to new offices is part of the long-term regeneration of the city.
Leader Mohammed Pervez said: "We have to be absolutely bold to secure the future of our city, which is all about economic growth and jobs for the people of our city."
Opponents of the move to Hanley are concerned about the effect on the city centre of the loss of trade from council staff.