Lord Nelson friend sword-pistol sells for £11,000 in Staffordshire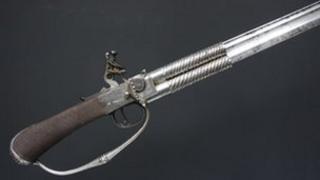 A sword-pistol once owned by a close friend of Admiral Lord Nelson has sold for £11,000 at auction.
The weapon, which belonged to Alexander Davison, was auctioned by Cuttlestones at Penkridge, Staffordshire.
It said the undisclosed "famous" buyer would continue to carry out research in the hope he could find evidence that the weapon belonged to Nelson.
At one point Davison was responsible for Nelson's finances and helped create the Nelson memorial in Northumberland.
'Equal pleasure'
Auctioneer Ben Gamble has said that after Nelson was injured in the Battle of Trafalgar and subsequently died, Captain Hardy, the captain of Nelson's flagship, HMS Victory, brought back about 120 cases of Nelson's belongings.
The descendants of Davison, who lived in France, decided to put a sale together of his items a few years ago and made millions of pounds, he added.
The weapon, which has a 65cm (25in) sword blade attached, was made by firearms manufacturer HW Mortimer in 1805.
Speaking after the auction on Friday afternoon, Mr Gamble said the new owner bought it "because he believes it's a wonderful historical object".
Earlier this week the previous owner, Fred Pritchard, said he hoped a collector or an institution would "get equal pleasure" out of it.