North Staffordshire Magistrates' court closes after 173 years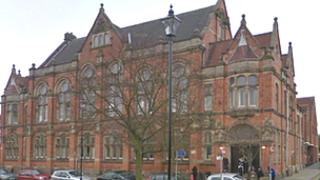 Magistrates at the North Staffordshire court have presided over their final cases ending 173 years of use.
The closure of the building on Baker Street in Fenton is part of government plans to shut 93 such courts in England and Wales in a bid to save £41m.
The building could be taken over by community groups.
Cases will now be heard four miles away at the newly renovated North Staffordshire Justice Centre in Newcastle-Under-Lyme.
Nick Davies, a defence lawyer who has worked at North Staffordshire Magistrates' Court for more than 30 years, said a use for the building "needed to be found."
Future use
"The building is not easily adapted unless you spend a great deal of money," he said.
"But it's something that needs to happen because Fenton needs a centre and it seems to me a lot of facilities could be persuaded to move here if the money can be found."
The Great Fenton Community Association said it was "exploring the option" of taking the building on.
Glenn Parkes, from the association said: "There is a possibility that a community asset transfer could be made, which would make us responsible for running the building.
"We've sent a questionnaire out to local people to see what they want to happen to it, because any plan needs the backing of the people."
Her Majesty's Courts and Tribunals Service said no decision had yet been made about the building's future use and it would "consider a community asset transfer."