North Staffordshire Royal Infirmary closes for final time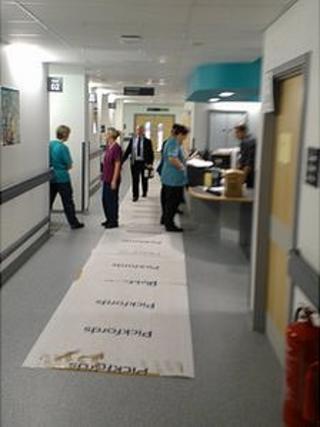 The North Staffordshire Royal Infirmary has closed its doors for the final time after almost 150 years of treating patients.
The last kidney patients were moved to a new renal unit at the University hospital of North Staffordshire's £400m City General site on Thursday.
All other services were moved between November and April.
Plans to demolish the royal infirmary and build about 200 houses on the site were approved last year.
Some buildings of special local interest, including the hospital's former headquarters and Windsor House, will also be converted into homes.
'Next stage'
Renal physician Dr Kerry Tomlinson, who has worked at the hospital for 10 years, said: "It's sad in many ways to be leaving because for patients and staff there are a lot of memories here.
"But the new facilities are fantastic, it's the next stage in our development where patients will get the environment and the facilities they need."
Marjorie Taylor, 85, from Stafford, who has renal failure, was one of the final patients to be discharged from the ward.
She has been getting treatment there for 11 months.
"I'm very sad to go because I've lost people in here that I've broken my heart over when they've gone."
The new £12m renal department will have a 28-bed ward on the ground floor and a dialysis unit on the first floor.
The royal infirmary was built in 1869 and was one of the earliest hospitals to use the pavilion system favoured by Florence Nightingale.