Lord Nelson friend sword-pistol up for auction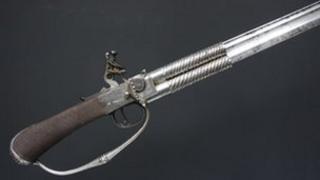 A sword-pistol once owned by a close friend of Admiral Lord Nelson is to be auctioned in Staffordshire.
The weapon, which belonged to Alexander Davison, was recently on display at the National Maritime Museum in Greenwich.
Cuttlestones, which is auctioning the weapon at Penkridge on Friday, said it expected the sword-pistol to sell for £10,000 to £15,000.
It said to think "you could be holding a pistol" which may have been used by Nelson was" tremendously exciting".
'Made millions'
The weapon's current owner Fred Pritchard said he hoped a collector or an institution would "get equal pleasure" out of it.
The 70-year-old Staffordshire property developer, a collector of antique arms and armour, added that a family trust was being sold and he realised "things have to move on".
Mr Pritchard, from Cannock Chase, said: "When I bought it [in 2003], I said I'd display it and I did, at the National Maritime Museum in London and on the [BBC's] Antiques Roadshow at Lichfield Cathedral."
At one point in his life, Davison was responsible for Nelson's finances and helped create the Nelson memorial in Northumberland.
Auctioneer Ben Gamble said: "After Lord Nelson was injured in the Battle of Trafalgar and then subsequently died, Captain Hardy, who was the captain of Lord Nelson's flagship, HMS Victory, brought back around 120 cases of Lord Nelson's belongings.
"A few years ago now the descendants of Davison, who lived in France, decided to put a sale together of his items and they made millions of pounds.
"It's as close as we know that it [the sword-pistol] is thought to have belonged to Lord Nelson."
The weapon, which has a 65cm [25in] sword blade attached, was made by firearms manufacturer HW Mortimer in 1805.
Mr Gamble added: "You'd engage the enemy in hand-to-hand combat and if you thought you were losing, you'd shoot them as a secondary option.
"It was a fashionable weapon for a short period of time."
Asked about the auction, Mr Gamble said: "He's in the top five great Britons, so if a museum or private collector believed the history, the story, then it could fly."
Davison first met Nelson in Quebec in 1782 and the two remained in close contact until Nelson's death at the Battle of Trafalgar in 1805.
In 1804 Davison was jailed for six months for election fraud following a failed attempt to become a Member of Parliament.
He was again found guilty of fraud for falsifying purchase orders and receipts in 1809. Upon release he lived quietly in Brighton until his death in 1829.