Staffordshire County Council jobs moved to private firm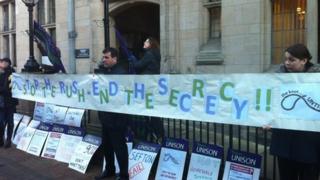 More than 4,000 council jobs in Staffordshire are to be transferred to a private company.
Staff including school cooks, cleaners and caretakers will be employed by a new firm which is a joint venture between the council and Capita.
Workers and unions, who claim the move will damage public services, staged a protest outside the council headquarters on Wednesday.
Two local Labour MPs have tabled a Commons motion questioning the move.
Ian Parry, cabinet member for education, said 4,000 school support jobs would be safe and the new company would create 1,600 more jobs.
'Invest in services'
He said: "There's no long-term implications for people's employment, we'll always need to provide school services, what we want to do is provide them better and to provide more of them.
"We're creating something different and imaginative that will continue to provide services and generate an income stream to invest in services and education."
School careers adviser Stephanie Evans, who is one of the workers who will be employed by the new company, said she was worried.
She said: "We're just really concerned if the joint venture doesn't prove to be successful or make a profit how will Capita recoup their losses?
"It could be by worsening the terms and conditions of staff which could worsen the quality of services we provide to young people to support them."
As part of the deal, Capita will set up a headquarters in the county and will invest £50m, which includes a £32m lump sum in return for a 51% controlling stake to run services.
The authority said it would make money via dividends as a 49% shareholder in the company.
But Claire Breeze, from Unison, said the new company "removed democratic accountability".
She said: "Services and staff are going to be handed over to a private company whose number one priority is to make as much profit as possible.
"They're accountable to their shareholders, not the people of Staffordshire - we believe there is a huge risk to services and staff in the long run."
Gareth Morris, head teacher at Flash Ley Community Primary School in Stafford said many of his staff could see the importance of change even if they were not necessarily supportive of the transfer.
He said: "The cooks and support staff in my school want to be engaged ands improve the service. They also see the need and where their talents can come in to change the service."
He added, as a head teacher, the success of the scheme would be judged on a combination of quality and value for money.
'Undue haste'
Labour MP for Stoke-on-Trent North, Joan Walley, said the council should "rethink plans".
Along with the MP for Newcastle-Under-Lyme Paul Farrelly, she has tabled a House of Commons motion questioning the decision.
She said: "There's just an undue haste about the way the county council have gone ahead with this because [the] business case hasn't been published and other options haven't been considered.
"This may well turn out to be the best way to proceed, considering things like budget cuts, but until all the information is out in the open it's very difficult to say."