University Hospital North Staffordshire forecasts £9.8m deficit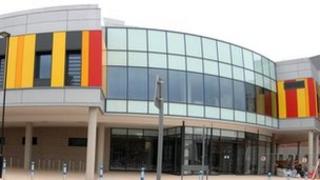 A Staffordshire hospital has warned it faces a deficit of almost £10m by the end of the financial year.
University Hospital North Staffordshire's announcement (UHNS) comes a week after its finance director left after 11 months with the trust.
In papers due to go before its board on Friday, the trust said it would "fail to meet its statutory duty to deliver a break even position".
This was despite forecasting a £2m surplus at the beginning of the year.
The hospital blamed a 15% rise in Accident and Emergency (A&E) treatment in the last year.
It said it had also been forced to pay premiums to locums and agency staff to support the "unexpected" level of emergency care.
A&E admissions are also expected to rise further over the winter period.
The forecast £9.8m shortfall by the end of March 2013 also assumes "additional income" of £14m, although the trust said it only partially covered its extra costs.
Auditors said "urgent action" was needed to put the trust in a "stable financial position".
They added that schemes designed to cut A&E admissions have proved inadequate, while the trust had become too reliant on one-off funding.
New finance director
Chief executive Julia Bridgewater said she was "extremely disappointed" by the position, having "delivered against financial plans for the last seven years".
She said the trust was putting in measures to manage its finances for the next four months, including a review of current finance systems and work with the strategic health authority on a recovery plan.
She said the quality and safety of services would not be affected.
UHNS is one of four major trauma centres across the West Midlands and opened a £400m A&E unit in March.
The hospital's financial director John Maddison announced last week that he would leave the trust.
Ms Bridgewater said he had worked "extremely hard" to "manage a very challenging financial agenda".
UHNS said Mr Maddison was leaving to "pursue other opportunities closer to his home in County Durham".
The hospital said it was advertising for an interim director of finance and hoped to advertise for a permanent post in the new year.