Protester agrees Stoke-on-Trent children's centres may shut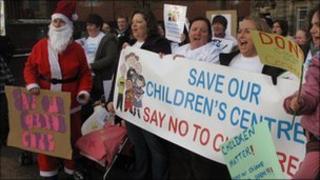 A campaigner who led protests against council plans to shut children's centres in Stoke-on-Trent says she accepts some will now have to close.
Melissa Beydilli, from Blurton, won the campaign two years ago to save the city's 16 children's centres.
Leaders at the Labour-run council said last week it needed to save £21m next year to meet a budget shortfall.
Mrs Beydilli said as services were cut, she did not "want to appear selfish" by wanting to keep all the centres open.
Last week, the council warned that children's centres, residential care and support to get people into work could go in order to help save the money.
It said that up to 250 jobs could also be lost at the council.
A review has also been launched into the council's early years services, which the local authority hopes can contribute £1.7m towards its targets.
'Got to be fair'
Mrs Beydilli has now been chosen to sit on a panel looking into that review.
She said: "I don't want any children's centres to close, but every year Stoke-on-Trent has been cut to the bone.
"Two years ago we fought and we saved them, but everyone saw the town hall shrinking, the elderly care homes close, the facilities they use on a daily basis all closing.
"I don't want to appear selfish in keeping all the children's centres open. I would love them to stay open - I think they're valuable to a cross-section of the community but at the same time I've got to be fair."
Council leaders have started a six-week public consultation on the proposals for next year's budget.