MP Aiden Burley urges Cannock Hospital community takeover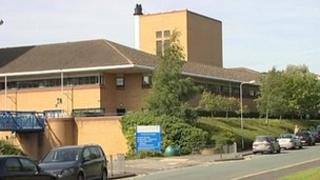 A Staffordshire hospital could be taken over by the community, according to the town's MP.
Only two of the nine wards at Cannock Chase Hospital are currently open, while the kitchens have also been closed by Mid Staffordshire NHS Trust.
In October, Cannock Chase District Council ruled out buying a stake in the £30m hospital, because of the cost.
Conservative MP Aidan Burley said the hospital, in danger of closing, could be transferred to the community.
In the past, the hospital has ruled out any sale.
Speaking in the Hose of Commons, Mr Burley said he had been asked by the health watchdog Monitor to produce a business case and assess the feasibility of transferring the hospital to a community interest company.
'Chance of success'
He said, if successful, it would be the first of its kind in the country.
More than 150 people turned up to a public meeting in October and another meeting has been organised for Tuesday.
The MP said: "It's now up to the local community to decide what they want to do with this asset
"Can they take over the running of it and can they use it use it for public benefit?
"If they can prove that over the next six months I think it's got a great chance of success."
'Pie-in-the-sky'
Health Secretary Jeremy Hunt said the MP's plans could prove "an interesting way forward for community hospitals".
Speaking on the Sunday Politics show in the West Midlands, Labour MP for Wolverhampton North East Emma Reynolds described the plan as a "pie-in-the-sky scheme that doesn't really seem viable".
Cannock Chase District Council also said the proposal seemed unlikely, unless large funds could be secured.
Council Leader George Adamson said: "It's £2m a year just to keep the building open, never mind the staffing costs.
"We need the details as to where the money is coming from. If the money's forthcoming that would be great, certainly better than closing."