Staffordshire flooding: Warnings in place after heavy rain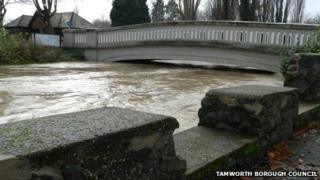 A number of flood warnings put in place in Staffordshire following heavy rain at the weekend have been downgraded.
The Environment Agency said five were in place on the Dove, Blithe and Trent at about 19:00 GMT, down from 11.
Fire crews guided and lifted 20 sheep to dry land, after they were stuck in flood water in the Rugeley bypass area, where the Trent has burst its bank.
The National Memorial Arboretum was closed for the day after the Tame flooded on to Croxall Road, Alrewas.
'Taking risk'
People were warned not to use the white bridge in the Castle Grounds in Tamworth as the river levels were very high at this point, the borough council said.
Anyone wishing to cross the river in the Castle Grounds, where the River Anker feeds into the Tame, were advised to use the footbridge near to the Ankerside Shopping Centre.
Staffordshire County Council said sandbags had been handed out in Stone to protect homes and businesses.
Jon Runcorn, landlord of The Red Lion in Hopwas, where water had been at waist height, said: "The roads are passable. They [drivers] are struggling through, but some of them are taking a risk.
"The river [Tame] is flowing very fast."
Eton Park Junior School in Burton-upon-Trent was closed due to the weather and roads around the town were closed due to flooding, Staffordshire County Council said.
An Environment Agency spokeswoman said: "There is some further rain forecast across the region today and if heavy showers fall on to already swollen rivers, we could see further impact [on the area].
"We'd encourage people to keep across the latest situation and to stay away from swollen rivers and not drive through floodwater."
Jamie Summerfield, editor of A Little Bit of Stone, a local news website in the area, said: "I honestly can't recall that particular area in Meaford which closed the A34 in both directions [yesterday] being that bad in the 15 years I've been in Stone.
"It was raining again this morning, but the flooding is dying down."
Cabinet member for environment and assets at Staffordshire County Council Mark Winnington said the authority's highways staff had worked "tirelessly" all weekend, delivering sandbags.
Mr Winnington said he believes the council has £300,000 allocated to a scheme for clearing out gulleys.
He said: "It's a little bit like a war and we almost sort of lost it at one point with the amount of rain that came down."
A Met Office spokesman said rain was expected to fall in the West Midlands region on Monday evening, particularly in the northern counties, but less than 10mm was expected.
He said the rest of the week was expected to be drier with lower than average temperatures.
BBC Inside Out featuring the flooding situation can be watched on the iPlayer until 3 December.