Drivers rescued from flood water in Stone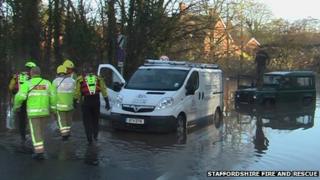 Firefighters have rescued three people who were trapped in their cars in flood water in Staffordshire.
Staffordshire Fire and Rescue service said it attended three separate incidents on Friday at the junction of the A34 and Meaford Road in Stone.
An elderly man was taken to hospital after he drove through flood water at the junction, which came into his car.
Later, a van and a Land Rover were pushed to safety by firefighters.
Station commander David Agu said the elderly driver drove through flood water without realising it was 3ft (1m) deep in places.
"He was quite elderly and frail and was beginning to get quite cold from exposure to the water," he said.
Staffordshire County Council said its highways teams were trying to clear the excess water from the road.
Several flood alerts are in place in Staffordshire, including for low-lying land by the River Sow at Great Bridgeford and the River Penk, near Stafford.
More than 70 flood warnings were in place across England and Wales on Friday.
Jean Hall, 66, from Hopwas said water had flooded the front garden of her home in Dunstall Lane, where water levels rose to about 2ft (0.5m).
"It's right up to the flower borders and I'm worried about it coming into the house," she said.
"I've got some of the furniture piled up on top of the settee and am trying to get some units up on bricks."
"If we do get any more rain, I'll just have to keep my fingers crossed and stand on the table."
The Environment Agency said rain on Wednesday and Thursday had left rivers in the West Midlands "reasonably high" and incapable of dealing with further heavy rain.
The Met Office said many areas across the West Midlands were likely to experience a period of very windy, wet weather with up to 30mm of rain predicted over the weekend.