GreaterGhost: Keeping the spirit alive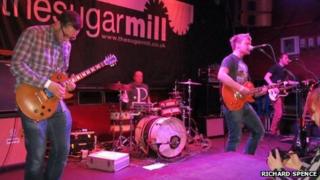 The stage at the Stoke-on-Trent Sugarmill is bathed in dark blue light as GreaterGhost crash into the opening chords of 'Isolation'.
It is the first time these four musicians, Jay Hawkins, Rick Loynes, Rich Ellis and Tim Paling have set foot on stage in two years after being members of two of the city's more successful bands, Hudson and Blast Stereos Loud.
"The time away has made me really hungry to do it again," said bass player Rick.
"When we started recording as GreaterGhost there wasn't really anything going on in Stoke-on-Trent, we just wanted to put the best songs we could together and then blow everyone away, because the scene has been stagnant."
In 2008, Blast Stereos Loud (BSL) and Hudson were leading lights of the thriving alternative rock music scene in Stoke-on-Trent.
BSL had released their first EP, Burn, after being signed to Birmingham-based Lockjaw Records - the previous home of Muse - and Hudson were selling out venues.
But less than 18 months later, both were playing farewell shows at the Sugarmill, as the bands decided to split up.
"I was exhausted by it," said former BSL frontman Jay Hawkins, now playing guitar and singing in GreaterGhost.
"I'd put so much in for so long and although on the surface it would seem we had really good luck, deep down we really didn't and it wore me out. I just had to get away from it," he said.
'No poppy anthems'
Jay said he did not pick up a guitar for almost two years and sold all his instruments and equipment.
But after a meeting with guitarist Rich Ellis at the music shop where he works in Hanley, Jay decided to join GreaterGhost.
"We had all been in different places in our lives for those two years of not being in bands, I had become a dad again, Rick had got married, but when we all got together in that room, we found an identity," said Rich.
The band have just released their debut EP, Fear the Distance, which features three tracks of alternative rock influenced by the likes of Thrice and Brand New.
Rick said the music has a more mature sound than their previous bands.
"Even though we might not consciously realise the fact, we are just older and slower and fatter and balder and it is how we kind of sound," he said.
"We're not doing bouncy poppy anthems any more, it's more soaring and epic because there's less jumping around involved with that."
Rich said the band did not feel any pressure to make sure the music appealed to fans of their previous bands.
"We gave that no consideration at all, and in fact I knew they probably wouldn't like it but that's part of the fun," he said.
The band now plans to go back into the studio and record an album but Rick said they were not aiming for fame and fortune.
He said: "We've all kind of accepted now that we're never going to be rock stars so we're just being really realistic and honest about it.
"We're just doing it because we really love it and if other people like it to, that's great."