Victoria Ground 'to be redeveloped next year'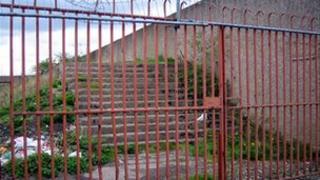 Stoke City Football Club's derelict former ground could be built on in 2013, the owner says.
Developer St Modwen has been criticised because the Victoria Ground has been vacant since the club moved to the Britannia Stadium 15 years ago.
Mike Herbert, St Modwen's north Staffordshire regional director, said there was a "whole host of reasons" why this had happened.
The firm was now working on a "viable scheme" with Persimmon Homes.
St Modwen purchased Victoria Ground as part of a deal to develop the new Britannia Stadium, Mr Herbert said.
He said the stadium was "really important to the city" but the firm was embarrassed about the old ground being empty.
"We don't want sites standing empty, we get no benefit, no credit from having sites empty," he said.
However, he said any development had been beset by delays such as work on the A500 which "went on for years".
The site had then been earmarked for offices, but this was shelved when the city council wanted such development in the city centre instead, he said.
Finally by 2007, St Modwen put forward the site for housing but it did not get any offers because the "market had changed so dramatically" as a result of the recession.
'Nothing happening'
Now St Modwen says it is working with partner Permission Homes to find a viable scheme.
Mr Herbert said discussions were "well advanced" and the partners were hoping to submit a planning application early next year and to start work later in the year.
He added St Modwen had developed 900 acres of north Staffordshire, accounting for about £600m of development.
Independent city councillor Randy Conteh, who represents the Penkhull and Stoke ward, said earlier this week he was concerned the site was still derelict with "nothing happening there" since 1997.
The councillor said it was an example of how Stoke had suffered from lack of investment and empty buildings and areas.