Staffordshire PCC election: Conservative wins post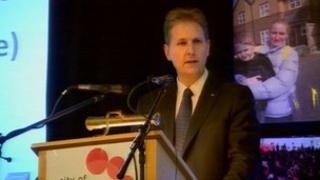 Conservative candidate Matthew Ellis has won the election to be Staffordshire's first police and crime commissioner (PCC).
The force was one of just three in England and Wales to use the traditional first-past-the-post method with just two candidates standing.
Mr Ellis won with a 3,648 majority over his Labour opponent Joy Garner.
The new PCC, with an annual salary of £75,000, will hold the force to account and set policing priorities.
Replacing the current police authority, Mr Ellis is due to take up his post on 22 November.
He will also work alongside the chief constable to manage the £192m budget.
Chief Constable Mike Cunningham congratulated the new PCC, saying he looked forward to "forging a strong relationship as we work to keep the communities of Staffordshire safe and reassured".
One of Mr Ellis's first tasks will be to find savings of £38.7m over the four years of his office.
Speaking after the result the winning candidate said he hoped to make sure "we spend every penny of every public pound better" and improve police visibility.
He said he also planned to introduce a forum to allow police officers to have their say on the force in complete confidence.
Six votes
Despite a low turnout across Staffordshire, Mr Ellis said he had been elected under a "decent mandate".
He said he hoped "lessons would be learnt" before the next ballot in four years, in terms of the timing of the election and improving information about the PCC post.
Across the Staffordshire force area turnout was 11.63% (98,826), with just 9.46% of the electorate voting in Stoke-on-Trent.
Turnout was 10.29% in Cannock Chase, 11% in Newcastle-under-Lyme, 11.73% in the South Staffordshire council area, 12.27% in the Staffordshire Moorlands, 13% in Lichfield, 14.27% in Stafford and 16.33% in the East Staffordshire council area.
Newcastle Borough Council leader Gareth Snell said one ballot box in the Loggerheads area had just six votes in it.
In other areas of England and Wales, Thursday's ballot papers asked voters to select a first and second choice for the post, using the supplementary vote system.