Council teaches people to use new Leek road crossing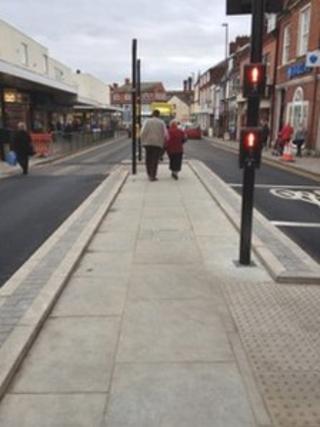 A council is teaching people how to cross a road after several pedestrians fell over a newly-built crossing.
Staffordshire County Council said it was putting a staff member on the crossing in Haywood Street, Leek, which was installed on Friday.
A paved pedestrian area in the middle of the crossing is surrounded by a line of raised bricks to guide blind and partially-sighted people.
It is this "tapping rail" which people have been tripping over.
The council said the crossing would be manned during busy times on Tuesday.
A spokesman said it was not that the crossing was not working properly, it was just that people were not using it correctly.
The crossing is controlled by traffic lights, and spans two roads. In between crossing each road, pedestrians must wait on the paved area in the middle which is surrounded by a 3in raised kerb.
The council said it had originally planned for a zebra crossing, but had been told by town residents they would prefer to see a pedestrian crossing activated with a button to push.
'Four seconds'
Henry Fox, who runs the Moments card shop with his wife Janette directly opposite the crossing, said he had seen two people fall badly since it was opened for use.
He said people "only have four seconds" to cross the road from one side to the other because of traffic light timings, so people were trying to take short cuts and then falling.
Mrs Fox said she had helped a man in his 80s after he fell on Saturday, leaving him with a head injury and a bleeding nose.
She said: "People expect to walk straight across the road like they have done for hundreds of years, and of course the kerbs in the middle are there instead."