'Buckingham Palace' bonfire event raises thousands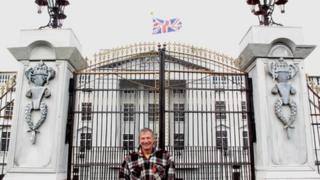 A Staffordshire man who had royal approval to burn down a 20ft (6m) high model of Buckingham Palace hopes to have raised up to £10,000 for charity.
About 2,000 people went to Sunday's bonfire event at The Royal Oak, Dilhorne, after Eddie Heath, 63, spent four months building the replica.
He wrote to the Queen for her permission and received a letter from the palace with her best wishes.
Money raised from the event will go to Midlands Air Ambulance.
Mr Heath, of Dilhorne, said: "When you've put a plan in your head, it's elation when it all goes right."
Mr Heath, who put together the replica from wooden pallets donated by local firms, has been building bonfire models based on famous landmarks for 20 years.
Previous models have included the White House and Wembley Stadium.
He said the Queen's Diamond Jubilee had inspired him to create the model of Buckingham Palace.
Mr Heath described Sunday's event as a "fabulous night" and added: "I think the bonfire struck the imagination of a lot of people and [they] were impressed by it.
"I love hearing people chatting about it and talking about it. It makes it all worthwhile."