Bid to save Middleport Victorian vicarage from demolition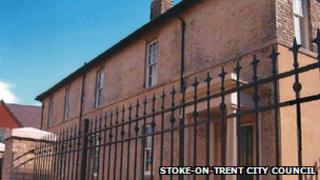 The Victorian Society has launched a campaign to save a 19th Century Stoke-on-Trent vicarage from demolition.
Ceramics firm Steelite International wants to knock down the building in Newcastle Street, Middleport, as part of a £12m expansion of its factory.
The society says the vicarage, built in 1858, has historical significance and needs to be preserved.
Stoke-on-Trent City Council will make a decision on the plans for the factory development in December.
The Victorian Society says the demolition goes against the Townscape Heritage Initiative in Burslem and Middleport, which saw the vicarage fully refurbished in 2008.
Under the initiative, the council, Advantage West Midlands and the Heritage Lottery Fund have invested more than £4m in historically significant streets and buildings in the area since 2007.
'Historic buildings'
James Hughes, from the Victorian Society, said: "It seems crazy to use lottery money on a heritage building and then raze it to the ground a few years later.
"We shouldn't be celebrating the town's history on the one hand while knocking down historic buildings in conservation areas."
Steelite said that it wanted to demolish the vicarage and seven terraced houses.
A spokesman for the company said: "Providing more jobs and opportunities is a key aspect for the company and the new facility."
The council said the vicarage, which is currently empty, was not on the statutory list for listed buildings but had been "noted as a building of special interest."
A spokesman said: "The building's status does provide it some protection but does not prevent it from being demolished."