Chesterton park war memorial vandalised with paint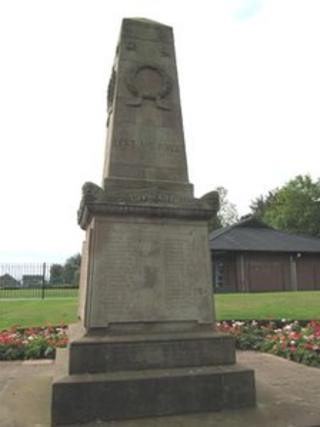 A war memorial in a Staffordshire park has been damaged by vandals who threw blue paint over it.
Newcastle Borough Council said rangers had now cleaned off the paint which covered soldiers' names and stonework around the Chesterton park monument.
Beryl Carter, from the friends of Newcastle Borough Museum, said: "It makes me feel sick, it's so disrespectful."
Staffordshire Police said it was investigating the damage.
Mrs Carter said she "couldn't comprehend" why anyone would want to damage the memorial.
"People have given their lives and you get some yobs coming along and doing that. I can't get into the minds of what possesses people to do things," she said.
Newcastle Borough Council said park rangers had cleaned the memorial with power washers and the park would be ready for its annual Remembrance Sunday service.