Leek Totally Locally campaign 'a success'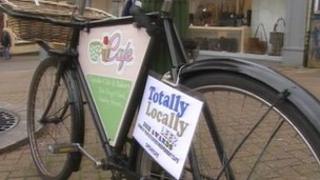 Traders say a campaign to attract shoppers to a Staffordshire Moorlands town has been an "outstanding success".
Shopkeepers in Leek said that in the year since the Totally Locally scheme was introduced, they have seen an increase in sales, despite retailers struggling nationally.
Those behind the project say it only involves educating people about how they can help boost the local economy.
A total of 70 shops in the town have so far signed up to the campaign.
Campaign organisers run events such as fun days and craft and food markets to promote local goods and educate people to encourage them to shop locally.
Its message - that shopping at independent local shops can help create jobs for the town and improve local facilities - is also promoted on social media sites.
The shops signed up to the campaign then also help spread the message.
Marc Briand, a Totally Locally organiser who also runs a gift shop in Leek, said: We've been trading for five years now and Christmas 2011 was the best we've ever had.
"Overall we've been seeing an increase in about 20% on the previous year's takings."