Ceramic academy bid to save Stoke-on-Trent pottery skills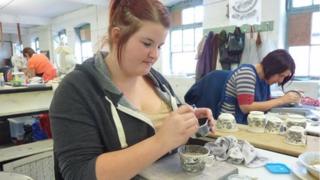 Could a bid to set up a ceramics skills academy in Stoke-on-Trent encourage more young people to take up a career in pottery?
For centuries, Stoke-on-Trent was has been known as a ceramics heartland, with more than 2,000 bottle ovens and kilns firing millions of pottery products.
In recent years however, a decline in British manufacturing has hit the industry hard and many fear traditional skills could be lost.
Between 1998 and 2008, the Potteries lost more than 20,000 jobs.
The British Ceramic Confederation (BCC) said many skilled people had been lost to the industry forever and chief executive Laura Cohen warned: "Some companies are facing a critical skills shortage."
She said: "They face challenges in being able to attract good people with the right skills into the industry and there's been little support to train them."
Now the BCC, along with North Staffordshire Chamber of Commerce, has submitted a bid for £1.5m to the government's Growth and Innovation Fund to set up a ceramics skills academy.
A decision is due in December.
'A bit geeky'
Ceramic artist Anita Harris set up her own pottery business after being made redundant from Moorcroft Pottery in 2006.
She now sells her one-off hand-painted pottery pieces to collectors as far away as Australia, America and Canada as well as on the UK market.
She said: "We love our jobs here, we're enthusiasts, a bit geeky really.
"But I can understand why people don't go back to pottery.
"A lot of people have been made redundant from the industry many times, some up to ten times, so there's no desire for them to get back into it or encourage others to either.
"If they have a job in somewhere like Tesco, I think they probably feel safer there because it's about job security, being able to pay your mortgage."
Some factories are taking on a younger workforce to make sure skills are passed on to a new generation of workers.
Tableware manufacturer Dudson, which employs 400 people at its factory in Tunstall, has recently taken on 12 new workers in manufacturing operations, ceramics and business administration.
The firm, which supplies companies including Virgin Trains, Nando's and Hilton Hotels, is backing the BCC's academy plan.
Managing director Max Dudson said: "We had been struggling to recruit people with the required skills and with an ageing workforce in the ceramics industry, we decided to take on these apprentices."
Mr Dudson said there was increasing interest in UK manufacturing which companies in Stoke-on-Trent were benefiting from.
He said: "A 'made in the UK', 'made in Stoke' backstamp doesn't guarantee you a sale but it helps a sale.
"It's about the quality and history, the huge skill set that still exists in the city and we need to harness that now to make sure we're successful in the future."
Save local skills
When the Prince's Regeneration Trust (PRT) bought the Middleport Pottery factory it said it wanted to save local skills.
The factory, which is home to Burgess, Dorling and Leigh, now has four new apprentices.
Zoe Hannon, from Burslem, started working for the firm in August.
The 17-year-old said: "I was doing a training course at college in childcare, but it was really hard to find a job and I needed something permanent straight away.
"My great Nanna worked in the pottery industry and although the factories have changed, these skills have been around for hundreds of years.
"It feels good to be carrying them on and starting a career at the same time."
Zoe is being taught how to apply transfers and patterns to ceramics by Jacqueline Heames, who has worked for Burgess, Dorling and Leigh for nine years.
"If we don't keep the young ones coming through the doors, this type of work is going to die out altogether," said Ms Heames.
"A lot people think that the designs are done by machines and are still surprised to see us doing transfer work with our hands.
"Many of us here are in our fifties and we need to have people to follow us when we retire."