Ceramic painters fear traditional skills could die out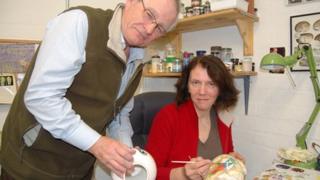 In a small pottery studio in Longton, Stoke-on-Trent, the steady hand of Peter Graves, 64, adds the finishing details to a delicately-painted picture of a ship inside an enamel box.
Across the desk, his wife Marie, 54, colours the wings of a bird she is painting onto a vase.
The couple have been freehand painters since 1974 but are worried that the skill is a dying art.
"We're all dropping off the perches," Mr Graves warns.
He adds: "It's shrunk to about 25 people in the UK doing completely freehand painting, because everything else is done with the aid of a transfer.
"There used to be an army of us in factories across the city and now we've been reduced to almost living museum pieces."
The couple, who paint porcelain, bone china and enamel boxes, fear their trade will not survive beyond the next 20 years because the skills are not being passed down to future generations.
They have welcomed plans for a ceramic academy in Stoke-on-Trent "in principle" but urged one of the big pottery firms in the area to help to teach traditional pottery skills.
The British Ceramic Confederation (BCC) and North Staffordshire Chamber of Commerce want to create a national ceramic skills academy in the city where the industry once thrived.
A £1.5m bid to the government's Growth and Innovation Fund has been submitted and a decision is expected in December.
'Surviving, not starving'
Mr Graves said: "It depends on what skills they're talking about.
"The new modern style of skills that are needed in the industry are very different to our Victorian style, and I don't know if there is room in the industry for that now.
"We would love to be able to take someone on ourselves and train them but we have to earn a living and if people don't pay us to train someone up we can't do it.
"It's something a bigger company like Wedgwood should do because they have the finances to do it."
The couple set up their own studio in the Roslyn Works in Longton six years ago after being made redundant from Moorcroft Enamels.
They said painted enamel boxes can sell for about £700, with vases fetching around £500.
Prices can be higher for pieces painted to order.
Mr Graves said the demand is still strong, especially for bespoke items. His wife is currently painting a set of six copper goblets with animal designs for a customer who is paying £3000 for each piece.
He said: "I think there's an upsurge lately with people buying one-off pieces and the firms that we buy vases from to decorate are very busy.
"I don't see what's happening in the larger factories but the small places are definitely busy and the industry is growing in those smaller studios and pottery makers."
Mr Graves said the couple were able to make a living from their trade but did not make a huge profit.
"We're surviving, we're not starving," he said.