Staffordshire regiment petition taken to Downing Street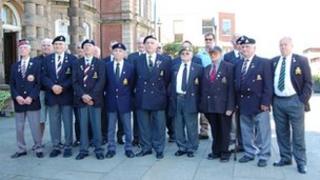 Campaigners who want to save the name of a former Staffordshire regiment have handed a petition to Downing Street.
The 3rd Battalion The Mercian Regiment (Staffords) is to be scrapped under government plans to reorganise the British Army.
The petition, which was signed by 17,000 people, had been organised by the Sentinel newspaper and the Regimental Association.
They want to see its name retained in some form within the Army.
The Staffordshire Regiment was formed in 1959.
With the formation of the Mercian Regiment in September 2007, it became known as the 3rd Battalion, but retained the name "the Staffords".
Soldiers from Staffordshire, the West Midlands and Birmingham are recruited to the regiment, which has its headquarters in Lichfield.
Seventeen major Army units, including the 3rd Battalion The Mercian Regiment, are being lost under government plans to cut 20,000 regular soldiers by 2020.
Assistant editor at The Sentinel Martin Tideswell said he hoped "the top brass of The Mercian Regiment" would "listen to common sense" and the people of Staffordshire.
He said: "We've had meetings with the Army and they've been very receptive to our ideas.
"This is very much a battalion and a regiment that's alive and kicking and we'd like to keep it that way."
The government said it had to make tough decisions to implement its vision of a "flexible armed forces" after "inheriting a massive overspend from the last government".
It said after a decade of enduring operations, it needed to transform the Army to "build a balanced, capable and adaptable force ready to face the future".