Stoke-on-Trent shopping centre report criticised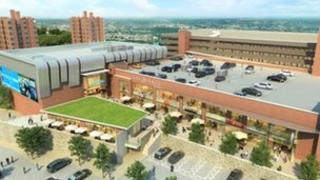 A report claiming that Stoke-on-Trent city centre cannot support two major shopping malls has been criticised by the city council.
The owners of the Potteries shopping centre, Capital Shopping Centres (CSC), commissioned the report.
The council told CSC in February it was not willing to sell land to expand the Potteries centre because of the building of another mall, City Sentral.
The report had a "pre-determined agenda", the authority said.
Council leader Mohammed Pervez said: "We would question the independency of this report given it was commissioned by the company who own the Potteries Shopping Centre.
"[This report] is counterproductive and will do nothing to boost confidence in the city as a place to invest."
'Muddying the waters'
The report, compiled by planning consultants Nathaniel Lichfield and Partners (NLP), said the city council had not taken into account the amount of empty retail space in the city centre.
It claimed the City Sentral development, which is planned for the old bus station site, was "unsustainable" because it will be too big and too similar to the Potteries shopping centre.
Mike Butterworth, from CSC, said he was "doubtful" that City Sentral would happen.
"There's a lack of demand from the retailers, that's the main problem. They have a planning permission which will run out in just over 12 months time and I suspect they're struggling to get the money together to make it happen."
Developer Realis Estates said it was currently in negotiation with "a number of major retailers" to move into City Sentral, once it was built.
"Our experience is that there is real tenant demand for City Sentral," said managing director, Duncan Mathieson.
"The aggressive tactics currently being used by CSC to promote its own interests is muddying the waters enough to cause confusion in the market and threaten the future of the city.
"This surely cannot be in the best interests of Stoke-on-Trent."