Poppy appeal fronted by Staffordshire amputee soldier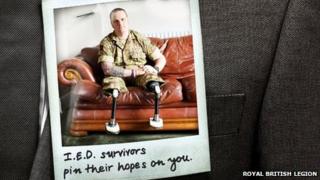 A soldier who lost both his legs in an explosion in Afghanistan will front this year's poppy appeal by The Royal British Legion.
Sapper Clive Smith, 26, from Hednesford, Staffordshire, was injured when he stood on an Improvised Explosive Device (IED) while on duty with the 33 Engineer Regiment in the Nahr-e Saraj district of Helmand in 2010.
"I was at the front of the patrol searching for roadside bombs that were buried in the ground, and I found one using the unconventional method," he said.
"I was conscious throughout the whole thing and if it wasn't for the rest of the lads who were in my section I wouldn't be here.
"They kept me alive through that before I was transferred back to the field hospital at Camp Bastion, where I was put into an induced coma and flown back to Birmingham."
Sapper Smith was treated at the city's Queen Elizabeth hospital for six weeks before being transferred to Headley Court rehabilitation centre in Surrey.
'Great honour'
"It was a massive shock to the system but after that initial shock, to be honest, the transition wasn't that difficult," he said.
"I knew the dangers of my job, all the lads know the threat exists of serious injury in a job like ours."
"I can't rewind time and give myself my legs back so you just have to grit your teeth and get on with it."
In April, Sapper Smith spent a week at the Battle Back Centre in Lilleshall which is funded by the British Legion.
The centre helps wounded soldiers recover through sports and adventure training and Mr Smith said it had played "a massive part" in his rehabilitation.
"I've tried rock climbing, canoeing, wheelchair basketball and all those things gave me a positive outlook about what I could do rather than thinking about what I couldn't," he said.
"If this had happened to me 15 or 20 years ago I don't think the support networks would have been as well funded as they are now, but it's really helped me get back on track.
"That's down to the public's generosity through things like the poppy appeal and it's a great honour to be involved with it."
He said he wanted to "give something back" as the appeal's new ambassador.
The soldier is working with prosthetic experts and physiotherapists at Headley Court to build up strength and walk unaided.
The British Legion, which is hoping to raise £42m this year, said it spent about £1.7m a month helping service personnel and their families.