Leek outdoor market's move 'could kill trade'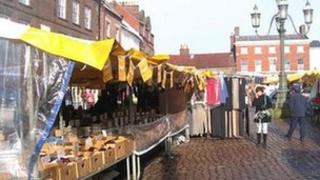 Plans to move an 800-year-old weekly market in Staffordshire could kill off trade in the town, campaigners fear.
Staffordshire Moorlands District Council wants to move the Leek outdoor market from Market Place to nearby pedestrianised Derby Street.
Shop owner Roger Warrilow, who started a petition against the plans, said: "If Leek market dies, Leek dies with it."
However, council said moving the market will increase footfall in the town.
Councillor Edwin Wain said: "The move would create around 65 car parking spaces and we believe the market and the shops will bounce off each other.
"We have to move forward - the market has gone down to 20 or 25 stallholders in recent years so we have to do something to help them."
'Renowned market'
Earlier this year, a report showed 20 regular traders used the 76 stalls available on the site for the outdoor market, which was losing the council £60,000 a year.
Mr Warrilow said: "Why should it be any different down Derby Street than in the Market Place?
"We're renowned for being an ancient market town and the market is a fantastic opportunity to start up new businesses."
However, Councillor Barry Cowie, of Leek Town Council, also disagrees with the plans.
He said: "Personally, I'm against the market move, it's been there for 800 odd years and the market square should remain a market square.
"Moving it onto the main high street will be a real inconvenience for the existing retailers and I'm quite concerned it's going to cause traffic problems which would discourage shoppers.
"It would also reduce the size of the market further - for example the meat van that comes on a Wednesday wouldn't be able to park up on Derby Street."