Somali pirates caught by message in a bottle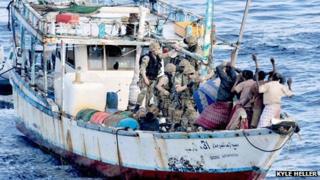 When Italian container ship Montecristo was boarded by pirates off the Somali coast, the crew knew they had to get a distress signal out.
About 620 miles from Somalia, with no means of phone or radio communication, they placed a message in a bottle and threw it out through a porthole into the sea.
Just hours later the message was picked up by a Royal Fleet Auxiliary vessel, the RFA Fort Victoria, which operates from Marchwood Military Port near Southampton.
It led to a team of Royal Marines storming the container ship and arresting the pirates in October last year.
"It was all very Dan Dare type stuff," said the ship's captain Shaun Jones, 54, from Haughton, near Stafford.
"The crew had put themselves into what's called the Sizzler, an armoured area of the vessel which protected them from the pirates.
'Not stereotypical pirates'
"They managed to get the bottle overboard and once it was recovered the message told us how many pirates were on board and that the ship had been disabled.
"We were able to intercept it and when the pirates saw us coming they surrendered."
All 23 crew members, including seven Italians, six Ukrainians and 10 Indians, were rescued and 11 pirates arrested.
It was one of the more dramatic operations that Capt Jones has been involved with and for which he was honoured with an OBE.
In other deployments during 2010 and 2011, the Royal Navy said RFA Fort Victoria crew had stopped at least six separate raids, capturing 43 pirates.
It said 36 of them had been sent for prosecution in Italy and the Seychelles, with others being stripped of their equipment and assets and sent back to Somalia.
"They were trying to catch merchant ships or fishing boats, which were being used to extend their operations across the sea," said Capt Jones.
"They would take merchant ships, which tended to be carrying oil or chemicals, down to anchor points off Somalia where they would hold them for ransom for release for many millions of dollars."
A recent report by British think-tank Chatham House showed that pirates in Somalia received an estimated £46m ($70m) in ransom payments in 2009.
The report showed that Somali men earned on average about £200 in a year, which Capt Jones said could explain why some tried a life of piracy.
"They're certainly not the stereotypical pirate with the eye-patch, tattoos and big sabre - they are just very desperate people," he said.
"To sort out piracy you have to sort out the problems with Somalia, the solutions are beyond the sea and on to the beaches."
Capt Jones was made an OBE for his "exemplary leadership and versatility".
He said he was "immensely proud" to have been given the award.
"It was absolutely incredible when I got an email from the office in Portsmouth telling me," he said.
"I couldn't believe it, I thought it must be April fools or something.
"It was a very proud moment and I think a good reflection on the teamwork of what we do on RFA Fort Victoria."
Capt Jones has been with the Royal Fleet Auxiliary since 1974, when he joined as a deck cadet at the age of 16.
He became a captain in 2000 and the commanding officer of the RFA Fort Victoria in 2010.
The 31,000-tonne ship will spend the next six to eight months patrolling the Indian Ocean and Red Sea and supplying Royal Navy warships with food, ammunition and fuel.