Arboretum gets £2.85m grant for centre of remembrance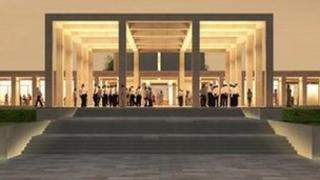 Plans for a centre for remembrance at the National Memorial Arboretum have been boosted by a £2.85m grant from the Heritage Lottery Fund.
The £12m scheme includes building a pavilion for special events and a remembrance learning centre.
The Staffordshire arboretum, which features more than 230 memorials, still needs to raise a further £4m in order to complete the work by 2014.
Plans for the centre were approved by Lichfield District Council in August.
Maj Gen Patrick Cordingley, chairman of the multimillion-pound appeal, said: "Our country will at last have a centre for remembrance which is worthy of the sacrifice made by so many, whether in the military or civil services.
"The additional space will help us educate many more children and provide extensive facilities for family and group visits."