Potteries Shopping Centre plans uncertain over land issues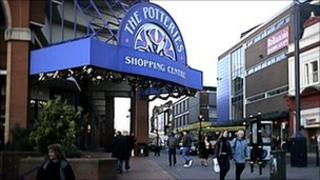 A row over the sale of land has left plans for a £14m expansion of a Stoke-on-Trent shopping centre uncertain.
The city council has told developers Capital Shopping Centres (CSC) it will not be selling the land close to the Potteries centre.
CSC got planning permission in February, and until the last minute believed the sale was part of the deal.
However, council leader Mohammed Pervez said the firm was always made aware the land would not be sold.
The council has said it is not willing to sell the nearby land it owns in order for the expansion to go ahead, because of the ongoing redevelopment of another centre, the City Sentral Shopping Centre.
But in a statement, CSC said it was encouraged by the authority to actively pursue the plans, which would involve the building of a cinema and new restaurants.
Future sale possible
"The council advised us that they would not sell the land in question just three days before they granted us planning permission in January 2012," CSC said.
"In March 2011, we met with council chief executive John van der Laarschot, who actively encouraged CSC to develop our plans and invited us to submit our application as soon as possible.
"We proceeded in good faith and worked with the council throughout the development of our plans."
The firm added the council's decision was "disappointing and frustrating".
Paul Francis, the Potteries Shopping Centre's general manager, had said the expansion plans could create 185 jobs, after expected completion early in 2014.
However Mr Pervez said: "Capital Shopping Centres knew this land was going to be an issue, the sale of the land was never part of the application.
"We wrote to them before permission was granted pointing that out."
He added the council would be willing to sell the land needed for the Potteries Shopping Centre once the Sentral centre plans have been completed.