Derelict sites in Stoke-on-Trent marketed to attract developers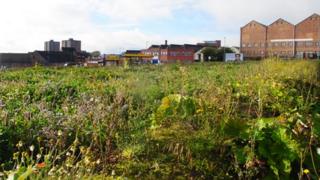 From the building of a new bus station to the laying of foundations for the £40m Central Business District, the look of Stoke-on-Trent city centre is rapidly changing.
"There's a sense of urgency in the regeneration of the city," said city council leader Mohammed Pervez.
"As I drive around I'm seeing cranes and building work and that's exactly the position I want to be in, to show people that we are in a rush to bring much needed houses and jobs to Stoke-on-Trent."
Now in its latest phase of the plan, the city council is advertising plots of derelict land in a bid to entice developers to build houses there.
"Derelict sites can be seen as a negative thing but they are also assets for a regenerating city," said Mr Pervez.
"What we're saying is we've got these sites ready to go and we have to push hard to get our share of the business out there because in the past we've been ignored."
The council currently has 500 sites that are "being assessed for their potential", and it is choosing to market its three biggest first.
At a meeting on Monday, attended by developers from around the country, the council gave its sales pitch for land next to the Emma Bridgewater pottery factory in Hanley, nearby land on Wellington Road and the former Churchill Pottery site in Cobridge.
"Some of this land is in prime locations and certainly we're interested in one or two from an initial look," said Dave Bullock, managing director of Compendium Living, based in Liverpool.
'Business risk'
The firm is currently building about 300 new homes in Weston Coyney on the outskirts of Stoke-on-Trent and Mr Bullock said he felt the city was "starting to find itself more."
"I think it recognises that it's not going to compete with Birmingham or Manchester because it's not in that league," he said.
"It's very well placed because it's right in the middle of the country, it's fantastically well connected, so it's a place where many developers are looking at opportunities."
But this plan comes amid a row over the council's decision not to sell a plot of land to Capital Shopping Centres (CSC), which wanted to extend the Potteries shopping centre, currently the city's biggest mall.
In January, planning permission was granted for the £14m extension including a multiplex cinema and six restaurants.
In a letter to CSC, the council said the land was not for sale.
The Chief Operating Officer of CSC, Mike Butterworth, said: "[This decision] is contrary to the council's claims that they want to encourage investment by existing businesses."
But Mr Pervez said the land could be sold in the future, but only once the City Sentral shopping centre was built on the old bus station site.
He said: "Once that is completed, if the Potteries shopping centre and other developers want to develop further businesses in the city centre then that's a business risk that they would have to take."
'Potential for growth'
In September, pottery firm Emma Bridgewater planted £10,000 worth of wildflowers, poppies and sunflowers on derelict land around its factory to try to encourage investment.
The land has been empty since a housing estate was demolished in 2007 as part of the Labour government-funded Pathfinder programme, which was subsequently scrapped by the coalition in 2010.
A spokesperson for the company said it was working with the council to create a "Stoke Oasis" - which would include "housing, landscaping and a visitor attraction" linked to the pottery business.
"Something needs doing, because it really is a mess," said Mick Parker, 68, who has lived near the site for 37 years.
He said: "The plan sounds good, I've worked in the building trade in places where I've had to commute. It would be good to see people living near to the factory and working there too.
"They ripped communities out when they levelled houses here, it would be good to have a sense of community back."
The city council said it currently had about 3,500 new homes, both houses and flats, that were either under construction or had been given planning permission across the city.
It said the highest demand was for three-bedroom family homes.
Mr Pervez said the council had relaxed its planning rules and also helped developers access funding to "accelerate building projects".
"We currently approve 88% of all applications and we've said that we will always say yes to good developments.
"That doesn't mean cutting corners but that planners shouldn't be putting obstacles in the way of progress, we want to be seen as a city that is open for development."
One developer which has taken advantage of the council's approach is Lovell, based in Birmingham.
It is building 91 homes on a derelict site off Ridgway Road in Hanley, but needed a £2.7m grant from the Homes and Community Agency (HCA) and a £300,000 grant from the council to get the project going.
Mark Rees, from Lovell, said: "It's been notoriously hard to get developments done with the recession.
"If Stoke can show their derelict sites are being developed, it suggests financial stability and potential for growth across the city."