Plans for Redhill business park in Stafford approved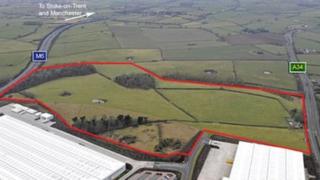 Plans for a £8.5m business park in Staffordshire have been approved.
The park, which will target businesses in the research and technology sector, will be built at Redhill, off the A34 in Stafford.
The county council, which is funding the project, has said it could create up to 2,500 skilled jobs.
Stafford Borough Council, the site's planning authority, twice deferred its decision to gather more information, but approved the plans on Wednesday.
In backing the project, the borough council said bringing private sector employment to the area and developing a wider variety of employment sectors would improve Stafford's economic resilience.
The borough had one of the highest levels of public sector employment in the country "making it potentially vulnerable to public spending cuts", so attracting private sector jobs was important, planners said.
Seven plots of between 50,000 and 200,000 sq ft would be created to attract businesses to the greenfield site, which is owned by the county council.
It said building work would begin before the end of the year and be completed by summer 2013.
Cabinet member for skills and employment, Ben Adams said: "We aim to get things moving as soon as possible on the Redhill site."
"We want to ensure we are bringing in jobs and investment at the earliest opportunity."