Bikers Ride to the Wall to honour British armed forces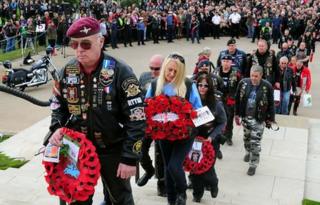 Thousands of motorcyclists have arrived at the National Memorial Arboretum in Staffordshire to pay their respects to fallen members of the armed forces.
Organisers estimated about 15,000 people attended the fifth annual Ride to the Wall (RTTW).
The Last Post was played and a wreath laid by Martin Dickinson, an RTTW founder, and Major General Kirkland, a patron.
Funds raised at the ride will go to the upkeep of the arboretum.
Organisers said they had raised £150,000 since the first ride in 2008.
Motorcyclists from across Europe made the trip to the National Memorial Arboretum in convoys from eight locations across the UK.